In Memory
Tim Blanco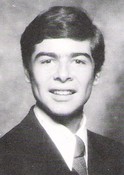 Tim passed away on June 15, 2009, in South Pasadena. A Mass was held for him at Holy Family Church on Tuesday, June 23.
I grew up with Tim on Indiana Avenue, going all the way back to kindergarten with Mrs. Tuesberg at Lincoln, I believe. He attended Monterey Hills when it was opened in 4th or 5th grade, but then I saw him again at the Junior High and High School. I remember thinking that he looked great at our 30th reunion in 2005, but I didn't have an opportunity to speak with him.
Tim had earned his Ph.D. from USC and worked as a psychologist in Los Angeles.
Please share your memories of Tim's life and any additional information you would like to share below.