In Memory
Paula Brana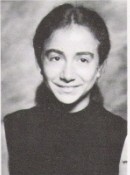 Paula Brana's brother, Rod, reported that our classmate, Paula, passed away of breast cancer in June of 2005.
Paula had been divorced and was living in Montreal, Canada. She was survived by her two children, Magdalena, who lives in Vancouver, CA, and Lautaro who lives in Mainz, Germany.
If you have additional details you would like to add about Paula's life or her death, or any corrections, please add your memories below or send us an email.