In Memory
Steve Rutkin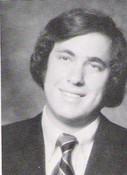 Hank Huber reported that Steve Rutkin passed away on October 6, 2006. He would have turned 50 in December 2006. Steve was battling melonoma for the last few years. Evidently the cancer spread to his abdomen and by the time they caught it, it was too late. He died with his entire family present (parents and siblings). He was not married and had no children of his own. He had been married early on, but had divorced.
Steve's brother, Roger, wrote that Steve fought the disease for five years. He wrote that City of Hope did everything they could for him, but the melanoma eventually spread to his brain and groin.
Craig Kuhlman remembered that Steve's father is Roger Carroll, the disc jockey on KMPC when we were growing up.
Chris Clarke wrote that Steve's friendship was very important to him. "Steve actually visited me at Patton and when I was released and working at UCSD. He was a steadfast friend from my high school years on. His family adopted me as a sixth child when my parents were embroiled in a combative divorce. I will always hold him close in my heart as a selfless and genuine person of kindness."
Mike Loomis expressed his concern that "it's a shame that something that could have been caught early and treated with a curable outcome got one of our classmates."
In a followup message at our request, Mike wrote: "
The key like most cancers is to catch it early. Risk factors are very important to consider and there is a good list in the attachment. What is not mentioned is who to go to for a check-up. Your primary care physician, specialist? My recommendation is to go to a reputable dermatologist, especially if you are at high risk. They can remove moles that may become risky down the road, and send suspicious ones for a pathology report. This is a good baseline exam. Bottom line, consult your MD if you see anything suspicious. Any changes or increases in pigmentation anywhere on your skin. Areas that received a lot of UV over the years are in most cases the culprit."
Mike offered the following website as a good source of additional information: