In Memory
Janet Windoffer (Benefiel)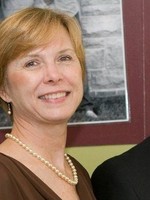 Janet's Life Story
Janet Benefiel was born September 30, 1957 in Whittier, CA and passed away on March 12, 2013 in San Diego, CA. She was the 4th child and 2nd daughter of Don and Dottie Windoffer. When she was 5 the family moved to a rented house in South Pasadena until they completed construction of a new house on Hanscom Drive where they moved when she was 6. .
Janet and her family created many happy, shared memories. Many surrounding the large gatherings with Dottie's side of the family (Aunt Carmen and Uncle Louie, with their 6 kids) for Thanksgivings, Christmases, birthdays and weddings. Growing up at Los Angeles First Church of the Nazarene with children's programs, the choir presentations, summer camps, youth group activities , Bible studies and swimming parties at the Hanscom Drive house. But she also experienced the tragedy of the death of her older sister Judy, who was killed in a private plane crash flying back from a trip with her fiancé when Janet was 11. Janet graduated from South Pasadena High School in 1975 and went on to attend Point Loma Nazarene University where she majored in home economics.
Janet started dating Ron in her sophomore year in college (somewhat secretly, yes because he had been her youth pastor when she was a teenager). They continued dating, with one "minor" break up right after they got engaged, but only to discover that they couldn't live without each other and were married in 1980. Janet furthered her education and earned her master's in nutrition in 1981 at Cal State University, Los Angeles.
Janet and Ron were a team together in ministry, even from the beginning while he was teaching at APU, setting up an outreach ministry which sponsored a Spanish pastor, Littlerock pulpit supply (summer of 81), and then their call to L A 1st in 1982. Janet made a decision not to get a full time job, but to engage in the life and ministry of the church, which included becoming meal planner for Mid-Wilshire Christian Schools, along with hosting showers and parties at the parsonage. She also taught cooking on that new invention-- the microwave oven. A few years into their ministry at LA 1st, they decided to move from the parsonage in South Pasadena, to a big old Craftsman house very near the church, in a multi-ethnic neighborhood. Janet fully embraced the idea of living in the neighborhood where they were ministering. This decision led to more opportunities to serve both the local church body and outreach to the community. She organized work on the house and the yard, painting and eventually remodeling the kitchen and family room areas. That old house became a hospitality hub where hundreds of church potlucks, Christmas parties, Bible studies, neighborhood watch meetings and small groups, were hosted by the Benefiel family. Their hospitality, of course, extended to Bresee Institute interns, family members, vacationing guests, and even a Hollywood movie production company.
During their time in Los Angeles, Janet and Ron were blessed with three children, Leanne (1985), Robyn (1988) and Timothy (1990), and somehow she always managed to be both a great mom and a great pastor's wife.
In 1996 the family moved to San Diego, where Ron took a position as professor at PLNU. They found a home in an area where, of course, they started a small ministry. Janet again transformed an older house into a place of warmth and welcome, hosting small groups, children's parties, barbeques and guests. She also was a leader in the fellowship which became Mid-City Church of the Nazarene, a new church that started in the Benefiel home.
Janet was thrifty. Like her mom, she worked to get a good deal and was careful how the family used their money. She was an excellent steward of their finances, and included a goodly portion for giving to the church ministries and missions. She took a part time job at AAA travel that provided her the opportunity to organize wonderful family vacations and memories at good deal prices. There was: Chicago, Branson, Colorado, Europe, Mexico, Alaska, even twice to Ecuador to learn Spanish. She appreciated the sights and enjoyed learning about the places they went, but she was also keenly interested in the people and how they lived, and concerned by the conditions of poverty many faced.
In 2002 a call from Nazarene Theological Seminary resulted in another move, this time to Kansas City. In their search for a home, Janet researched, and researched and researched. They looked at neighborhoods, schools, activities, opportunities and churches. She wanted her children to enjoy and feel at home in this very different city. They were able to buy a beautiful 3-story home in Brookside, near the seminary, which was apparently waiting for Janet to work her magic. She used her creative talents to turn estate sale finds and rugs purchased on the internet into lovely furnishings for this period home, as well as a source of additional family income. Also estate sale final auction boxes (never knew what you might find!), stocked her basement inventory for great neighborhood biannual yard sales--and all the friendships and connections made along the way. Once again, her gift of hospitality meant visitors, international study students , seminary students needing a home, as well as her family and friends were welcomed with abundance. And, she was a great tour guide.
Janet was always fully engaged in the life and ministry of the church.. She and Ron joined Trinity Church of the Nazarene, where she served on the board and helped organize many of their ministry retreats. Janet was a life-long learner and avid reader. While at NTS she enrolled in courses in theology and Biblical studies and she relished the opportunities to have deep theological discussions. Out of this she developed a very keen theological understanding of the hope we have as Christians in the return of Christ and the resurrection of the saints in the final day.
Janet also loved animals. Growing up her family had dogs and cats: Afa, Friday, Mocha, Joshua, "mama kitty" and "Miss Tery". The Benefiels had pets too, Duck a cat that quacked, Paris, Apple, Nickel, and Ron's picks: Dietrich, Calvin, Luther. She was also known to take in the lost cat, or an orphaned squirrel or two.
Janet had a very big heart, and compassion for people in need. After her diagnosis with breast cancer she chose to focus on projects and Bible study instead of letting cancer define her. She was especially concerned for those in Africa who had little access to adequate medical care. She volunteered in Leanne's first-grade class and had great compassion for the children. She spent her early morning hours studying the Word. As her health failed, she asked us all for help by giving used clothing to Leanne's school – the "non-event event". Even through the pain her compassion was her priority.
But this last year has not all been pain. Janet and Ron were blessed this past July with the birth of their granddaughter, Harlowe Mercy. These 8 months with her granddaughter were truly joyful. And this December she celebrated Tim and Mia's wedding in Kansas City.
Janet leaves a wonderful legacy: an example of a faithful and love-committed marriage, three children, of whom she was very proud, all married and serving the Lord; a host of friends and family who have benefited from her example of hospitality and compassionate Christianity; her life, committed to Christ and the Church in hope and anticipation of His soon return. May it be so…