In Memory
Bill Hoist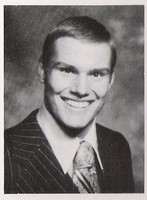 We were stunned to learn that a central character of our collective high school experience, Bill Hoist, was also taken from us suddenly. Bill suffered a heart attack and passed away on Saturday afternoon, March 5, 2005.
After serving as our sometimes crazed leader, friend, rebel without a cause, stud and Commissioner General in high school, Bill grew into a devout Christian, extremely devoted father and husband, a teacher and shepherd of kids in South Central Los Angeles, a highly-respected soccer coach and much more.
And, of course, he always remained a leader in every aspect of his life. Though his manner softened as he matured, he never lost that energy, enthusiasm, spirit and that piercing stare into your soul that we all knew and shared when we were in his presence.
Bill will be deeply missed by his wife, Becky, their children, Allison, Kevin, Brian and Jason, and all of those who had the opportunity to be part of his unique life.
More memories of Bill can be found at:
home.earthlink.net/~sphs75/id4.html
If you have additional details you would like to add about Bill's life or his death, or any corrections, please add your memories below or send us an email.