In Memory
Don Conklin VIEW PROFILE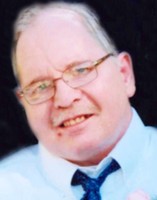 Donald Eugene Conklin, II, 57, of Dakota City, Iowa, died Thursday, Sept. 4, 2014, at a care facility in South Sioux City.
Services were held at Waterbury Funeral Service and he was buried in Dakota City Cemetery.
Donald was born on Dec. 1, 1956, to parents Donald E. Conklin and Donnie R. (Johnson) Snyder. He grew up in southern California. Donald completed a state apprenticeship program and spent many years of his life in the machine shop trade.
Donald married Anita H. Regos in 1980 and had three children. They made their home in Littlerock, Calif., until moving to Nebraska in 1992.
Donald enjoyed music, swimming, hiking, fishing, and spending time with family.
Survivors include wife, Anita; son, Donald III and spouse, Meggan and children, Donald IV and Lorianna; daughter, Kimberly and spouse, Dustin Anderson and children, Elizabeth and Evan; daughter Lissa Reiss and children, Izaic and Allison; sisters, Chris Conklin and Cathy Conklin; and many nieces and nephews.
Donald was preceded in death by his parents; and sister, Berdie Henry.
Special thanks and appreciation to the Matney's Colonial Manor staff who became part of Donald's extended family.
From the Sioux City Journal.
If you have additional details you would like to add about Don's life or his death, or any corrections, please add your memories below or send us an email.
Click here to see Don's last Profile entry.